Vijverbergsession Family Farming – Financial Services
Wednesday 10 September 2014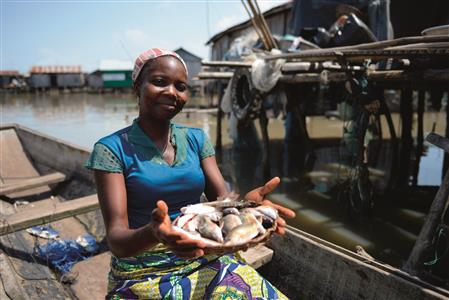 © Oikocredit
Vijverbergsessies zijn besloten seminars waar academici, politici en experts uit overheid, maatschappelijke organisaties en bedrijfsleven discussiëren over actuele zaken betreffende de globale voedselproblematiek, met als doel conclusies te formuleren die relevant zijn voor beleidsmakers. De bijeenkomsten, waar maximaal 25 deskundigen aan deelnemen, worden georganiseerd door Socires (www.socires.nl), namens het platform FoodFirst. Voor deze sessies gelden de Chatham House Rules.
About this session
This seminar is preparatory to the conference on Family Farming, which will be held in Utrecht on December 15, 2014. Core question of this conference is: What support do African family farmers need in order to improve their entrepreneurial performance?
Representatives of ngo's, the business community, the academy, politics and public administration will share and connect their lessons learned and current insights on supporting the successful transition of family farmers to rural entrepreneurs.
Theme
A significant challenge faced by family farmers is their limited access to credits and other financial services, such as insurances.
Florian Grohs, Credit Director of Oikocredit International, will share experiences and lessons learned with loan programmes for family farmers, analysing both success and failure. How is Oikocredit now dealing with the multiple policy dilemmas involved?
And on a parallel track, what are Oikocredit's experiences and lessons learned with programmes that aim to support smallholders in setting up their own organizations for savings and credit? What makes for success here?
Albert Boogaard, senior manager Africa at Rabobank Foundation, will provide further input for the conversation.
Next to this, the topic of crop insurance will be addressed, as an instrument to facilitate access to credit and as part of a broader strategy to mitigate the risks that are inherent to the agricultural enterprise.
Marcel van Asseldonk, researcher at Wageningen UR, will give an overview of his recent publication on the development of a Meteosat based index insurance system that provides affordable drought and excessive precipitation insurance to every farmer in Africa.
Furthermore, he will share experiences and lessons learned regarding the social role of agricultural insurance.

Aaltje de Roos, senior policymaker at the Ministry of Foreign Affairs, will give her opinion on which lessons can be learned from programs setting up micro insurances for family farmers.

Henk Moll from Wageningen UR will chair the meeting.
Programma
16.30 Ontvangst
17.00 Welkomstwoord, Henk Moll, WUR
17.05 Presentatie door Florian Grohs, Oikocredit
17.10 Reactie door Albert Boogaard, Rabobank Foundation
17.15 Discussie
18.00 Presentatie door Marcel van Asseldonk, WUR
18.05 Reactie door Aaltje de Roos, Ministerie van Buitenlandse Zaken
18.10 Discussie
18.50 Concluderende en afsluitende woorden, Henk Moll, WUR
19.00 Drankjes en lichte snacks