Agriterra
Farmers are no longer only cheap producers of commodities and a next generation cooperatives has shaken off the burden from the past and is in the lead of a transformation of rural areas. A "silent revolution" is taking place. One where entrepreneurial farmers and agri & food professionals are establishing competitive, market oriented cooperative companies to boost agricultural production and create off-farm employment, often under the radar of NGO's or governments. This new generation realize they do not need to wait for external parties to provide development. Examples in Ethiopia and India clearly demonstrate that the moment farmers take development in their hands by hard work and investments with their own capital, things can change and the ambitions of the farming families can be achieved. These developments spur the structural transformation of the economy and -when done massively in modern, market-oriented cooperatives- boost economic growth and improve income distribution

This workshop aims to expose the experience of Mr Dejene Hirpa, deputy manager of Oromia Coffee Farmers Cooperative Union and former general manager of Becho Woliso Farmers Cooperative Union. Participants will be invited to analyze and discuss the Ethiopian case from six different angles:

* Differentiation among rural dwellers
* Environmental costs of rural poverty
* Revision sustainable development goals
* Youth and employment
* Investment in rural industrialization
* Role of cooperatives

Expected output:

* Clear policy recommendations to further enhance and support rural industrialization in Africa.
* Participants gained insights on features of next generation cooperatives.
* Opportunities for Dutch agri & food industry identified.

You are most welcome to this workshop if you are interested in concepts of structural transformation and rural transformation and how these are practically linked to agricultural development and off-farm employment. This workshop is especially interesting for farmers, agri & food industry, policy makers, students and knowledge institutes.

Organizer

This workshop is organized by Agriterra, the Dutch agri-agency for cooperative business development. new generation is looking for role models and for new forms of farmer's co-operations, and is open to local partnerships.
ICCO
AgriProFocus
Rabobank Foundation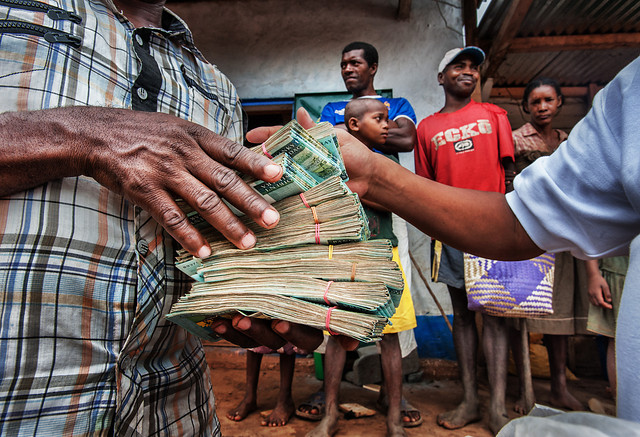 See also the report on Agriprofocus
Frank Bakx (Rabobank Foundation) presented the results of the study Critical Capital for African Agri-Food SMEs that reviewed demand and supply of risk capital for agri-food SMEs in Sub-Sahara Africa, based on field studies in Kenya, Tanzania, Zambia and Mali
Panellists:
Hans Docter: Director for Sustainable Economic Development at Ministry of Foreign Affairs, the Netherlands
Laura Smeets: Investment Director at BiD Network Foundation
Jaap Jan Verboom : CEO at Truvalu
Sean Patrick: Founder and Food Innovator at Green Banana
Report
Demand for and supply of risk capital do not match! Entrepreneurs in the SME agri-food sector in Sub-Sahara Africa have a high demand for capital injections between 150 and 250K USD. Private equity and venture capital providers consider the risks to invest in these businesses rather high, the returns often too low and the technical and commercial capacities of entrepreneurs insufficient.

Discussion
Now that we better understand the issues: what needs to be done by who?
Financial blending: different types of funding products - new and innovative - available for different stages of the business, starting with more 'friendly' types of funding - from e.g. impact investors, public sector - at the early stages. Investment funds will follow once the business shows results.
Activity blending: capacity strengthening and business services are offered to the entrepreneur in combination with funding. There is, however, a need to distinguish between the capacity strengthening needs of entrepreneurs (demand) and what funders want to offer and think entrepreneurs need. Both are running a business.
Donor money should be used to start something or bear costs that the market can not. Public money should not promote private businesses.
SMEs need to have great ideas, plan, have a good business model and know their markets before approaching investors.
In order to achieve this:
Stakeholders need to collaborate to make the 'value chain of the investment environment' transparent: overview and insight for all relevant actors.
Knowledge about each other between SMEs and investors must improve and mutual understanding increased of the still rather different worlds both are operating in.
Linking between SMEs and between SMEs and investors to exchange information, learn lessons and innovate.
Action
AgriProFocus, ICCO and Rabobank Foundation to
Define the first concrete steps towards a coalition of willing stakeholders to jointly work towards 1. the design of innovative instruments and approaches in making critical capital available for agri-food SMEs and 2. the realisation of a more transparent 'value chain of the investment environment' (July 2018).
Share the results of the study with stakeholders in the countries where the study was conducted to begin with (September-December 2018).
F&BKP, YEP, AgriProFocus
The Food & Business Knowledge Platform (F&BKP), AgriProFocus and the Young Expert Programmes (YEP Agrofood and YEP Water) will organize a workshop together during this conference, focusing on youth entrepreneurship in agricultural transformation. The goal is to inspire and engage the audience, putting forward stimulating and thought provoking statements and showcasing young changemakers and their work in being the solution for agrofood challenges.
Ms Mukungu will kick-start the session by sharing her experiences as a successful entrepreneur and Founder of the Africa Rabbit Center. Dr. Atta-Krah will provide a keynote with a macro perspective on the topic of "youth agripreneurship in Africa" and insights and inspiration around "why invest in youth?". This will be followed by a "Youth Caravan", a Q&A session with several young entrepreneurs / young professionals active in the field of agribusiness in Africa. How do they contribute to agricultural transformation? Why agribusiness? What obstacles did they face, and how did they overcome those? What makes them successful?
Furthermore, during the lunchbreak, you can get familiar with a variety of successful initiatives of organizations in this field in the "Youth Market Place" in the foyer. Several NGOs, networks, knowledge institutes will present their work related to youth in agri-food systems.
Programme:
11h10-11h25 Opening by organizers and short word by moderator
11h25-11h45 Keynote speech by Kwesi Atta-Krah (Director Country Alignment and Systems Integration IITA – explain about IITA Youth Agripreneur program and macro-perspective of youth agripreneurship in agricultural transformation)
11h45-11h55 Introducing the "Youth caravan"
Bertrand Foffe (CEO of Jangolo in Cameroon & finalist of CTA Pitch AgriHack 2016)
Thomas Schuurmans (CEO Proportion Foundation)
Maya Turolla (PhD youth in agribusiness in Uganda)
Frederieke Muijs (Young Expert at TU Delft - Valorisation Centre – Uganda)
Maarten Hermus (Young Expert at VDS A'campo Holland GreenTech – Uganda)
11h55-12h20 Youth Caravan Q&A
12h20-12h30 Conclusions, rounding-up
12h30-14h00 Youth Market Place during lunch in foyer
ECDPM
Expected outcomes
Clarification of the debate and proposal of solutions by European and African stakeholders, around policy and investments for more sustainable food systems (SFS) and climate-smarter agriculture (CSA), through relevant policy processes in Europe, Africa, and the AU-EU and global levels in support of agripreneurship
Context
One key way to foster sustainability and variety in our food systems is supporting the production, marketing and consumption of more sustainable horticulture, i.e. neglected and underutilized species (NUS), given their better nutritional value and climate resilience and the increasing demand by consumers. Market systems, including certification & labelling, for the sustainable promotion of NUS, and other parts of an enabling policy environment that make diversity of diets both affordable and attractive to the consumer, can be game changers to achieve food security and sustainable food systems. In Africa, this would also contribute to integrating territories along the urban-rural continuum, linking all actors in the food system, from producers to consumers, and enabling in particular smallholders and small service providers to better supply urban and regional demand, thus taking advantage of burgeoning African food economies (i.e. supplying the increasing food demand coming from urban areas, given the increasing purchasing power, and the resulting changing diets with higher consumption of high-value food products). Small entrepreneurs can indeed be protagonists of both SFS and Private Sector for Development, given their share within total population, sustainability of their farming and trading practices, their growth potential and proximity to expanding urban areas (compared to food imports).
In an effort to inspire policy/practice linkages, and taking into account results of the recent Summits of AU and EU (e.g. in Abidjan), this workshop will address all of the above and put forward a number of solutions, around: trade and investment cooperation between Europe and Africa; labels recognizing simultaneously the environmental-social-economic sustainability of traditional horticulture; use of the Green Climate Fund (GCF) to finance programmes for the adaptation of African agriculture, especially as a concrete commitment for AU-EU and a sign that the AU-EU Partnership can be real and influence multilateral results. Traditional horticulture is only one aspect of SFS and CSA but will be used to illustrate the importance of being concrete -rather than rhetorical - when talking about CSA and SFS, and that there is a potential role for funds like the GCF to support sustainable agriculture in Africa.
Proposed panellists
Marcel Beukeboom, Dutch Climate Envoy
Ann Tutwiler, Director General of Bioversity International
Grammenos Mastrojeni, Italian MFA Coordinator for the Environment in Development
Representative of the Adaptation of African Agriculture Initiative
African company representative active in sustainable value chains (e.g. traditional horticulture)
Agricultural Counsellor of the Dutch Embassy in Kenya
Roberto Ridolfi, FAO Special Strategic Adviser for Investments and Financing Development