FoodFirst-Floriade conference: The Business of Nutrition Security
Tuesday 28 August 2012
[> To the full report on FoodFirst for Thought.
In the press: evmi.nl: Knapen: 'Nederland maakt verschil voor voedselzekerheid'
Summary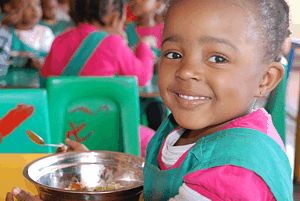 Image © GAIN
"We have the science, expertise and business models to eradicate malnutrition that kills millions of children each year and stunts the growth of millions others. We need political will and smart partnerships to achieve this goal in our lifetime." Jay Naidoo, Chair GAIN Board)
Malnutrition undermines economic growth. Today, one billion go to bed hungry every day and another billion people suffer from so called 'hidden hunger'. They lack essential vitamins and minerals in their diet such as iron and vitamin A. Good nutrition is crucial for normal physical and mental development of children and defines their opportunities in later life. Investing in human capital through better nutrition is one of the most cost-effective ways of helping countries' economic growth (Copenhagen Consensus, 2012). Companies and scientists in the field of micronutrients are developing auspicious innovations such as food fortification. The Netherlands in particular, world-leader in the food sector, has the expertise to tackle malnutrition successfully, through joint initiatives with local partners in developing countries.
At this fifth FoodFirst conference (inter)national key players in the field of food and nutrition security share their expertise, experiences and views on the missing link between available expertise and innovations. What can businesses, policy makers, civil society organizations, and scientists deliver to reinforce food and nutrient security for the billions of people who lack access to it?
The fifth FoodFirst conference at the Floriade venue in Venlo focussed on the effects of malnutrition, or so called 'hidden hunger'. 925 million people go hungry every day. Two billion people lack the essential nutrients to live a long and healthy life. And, the problem is still growing. The world's population rises fast, and the demand for food rises even faster.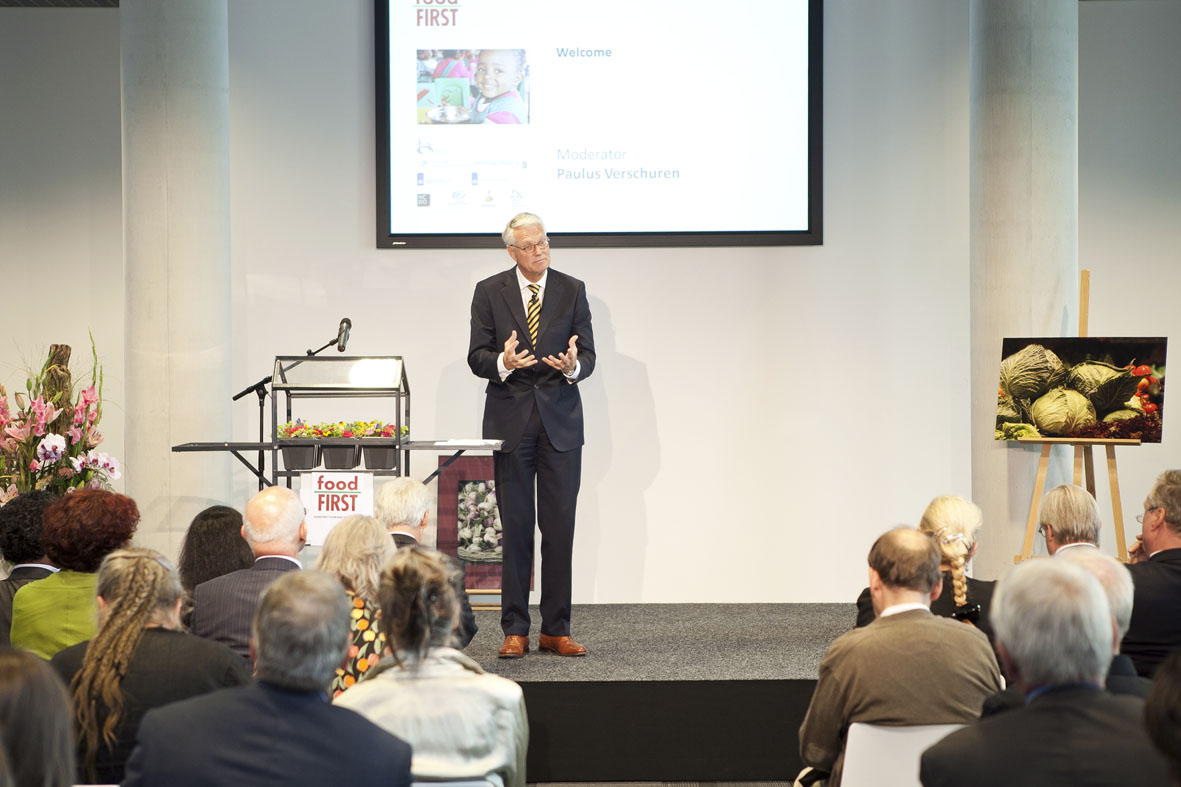 Moderator of the day, Paulus Verschuren, special advisor to the Ministry of Foreign Affairs and expert in the field of nutrition security, set out the focus of the day. Whilst the entire day was centred on improving access to – nutritious, healthy, varietal - food for the poorest population, there were four important threads throughout the day. The first was a call for new partnerships. The second was inclusion of women and children. Third, balancing surplus with malnutrition. And relating to the third, the fourth dilemma was to tackle governmental incapacities and cultural gaps that lead to inefficient distributions.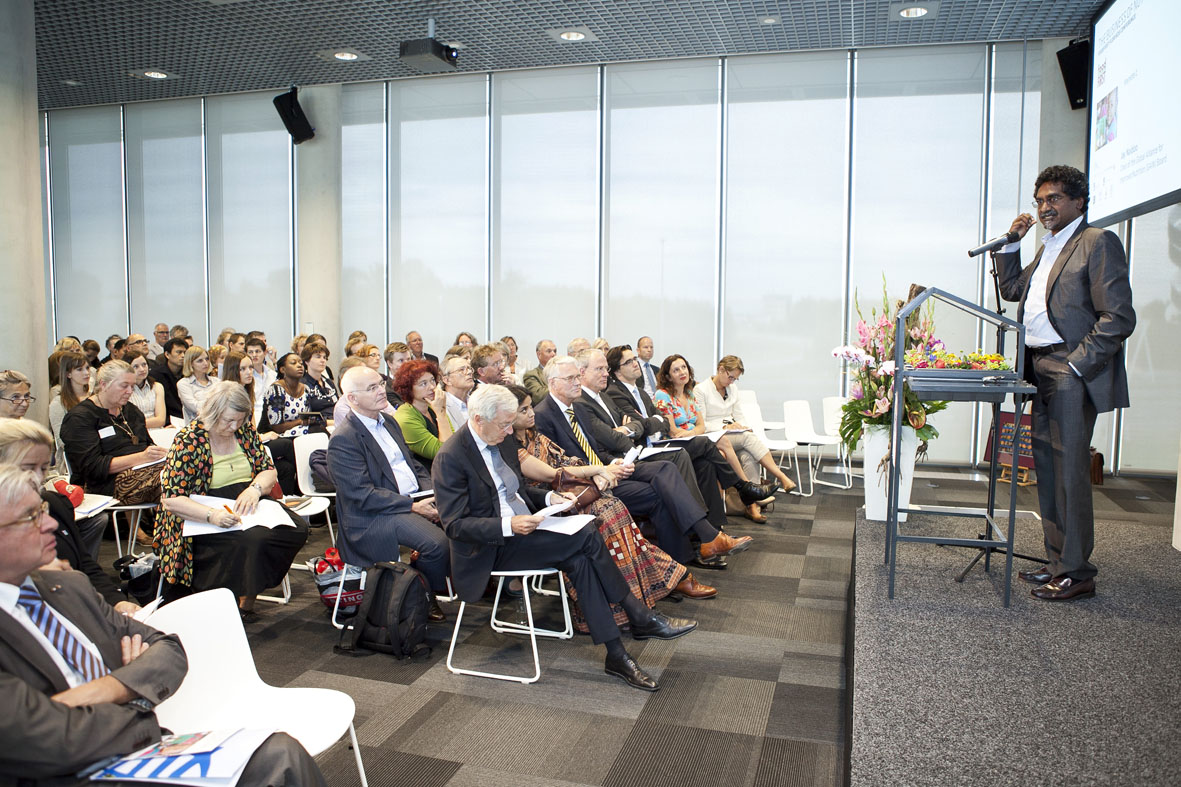 The first keynote speaker was Jay Naidoo, chair of the GAIN board. Naidoo underlined that we have all the knowledge, the legislation, business models, NGO expertise that allows us to do so, but lack the political will. Naidoo stressed the "need to try to develop a model that makes the markets work for the poorest of the poor." He advocated to focus on the mother, since she is the one who needs the right nutrition when she's pregnant, who can make the choice to breastfeed her child, who feeds her children, and who informs her children what food to eat while growing up.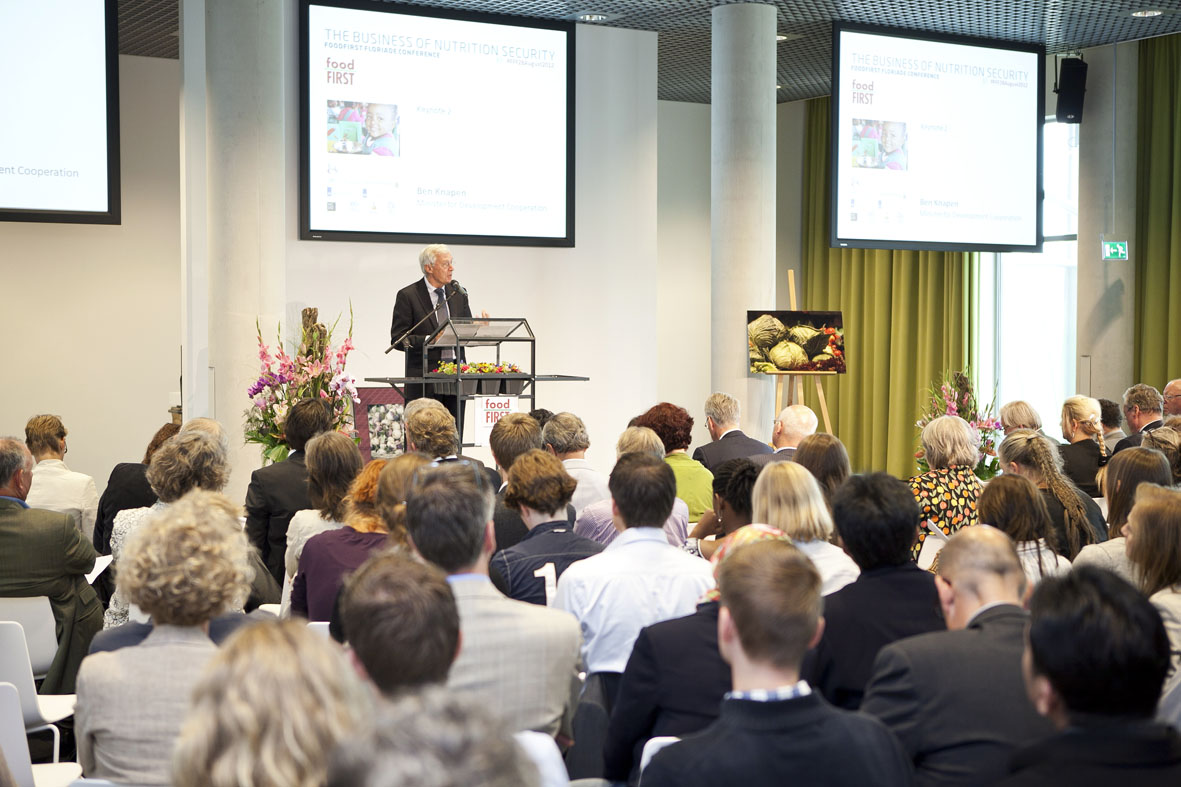 The conference turned to the focus on partnerships again with second keynote speaker Ben Knapen, Minister for Development Cooperation. He articulated the Dutch governments' commitment to food security and nutrition: "We're putting our money where our mouth is, we're expanded our budget from € 160 million to €435 million in 2015." He summed up several initiatives the Ministry supports: the Amsterdam Initiative Against Malnutrition, UNICEF, GAIN, SUN, fertilisation programmes, and sustainable trade initiatives. He expressed the need for help: "We can only facilitate, others have to do the jobs."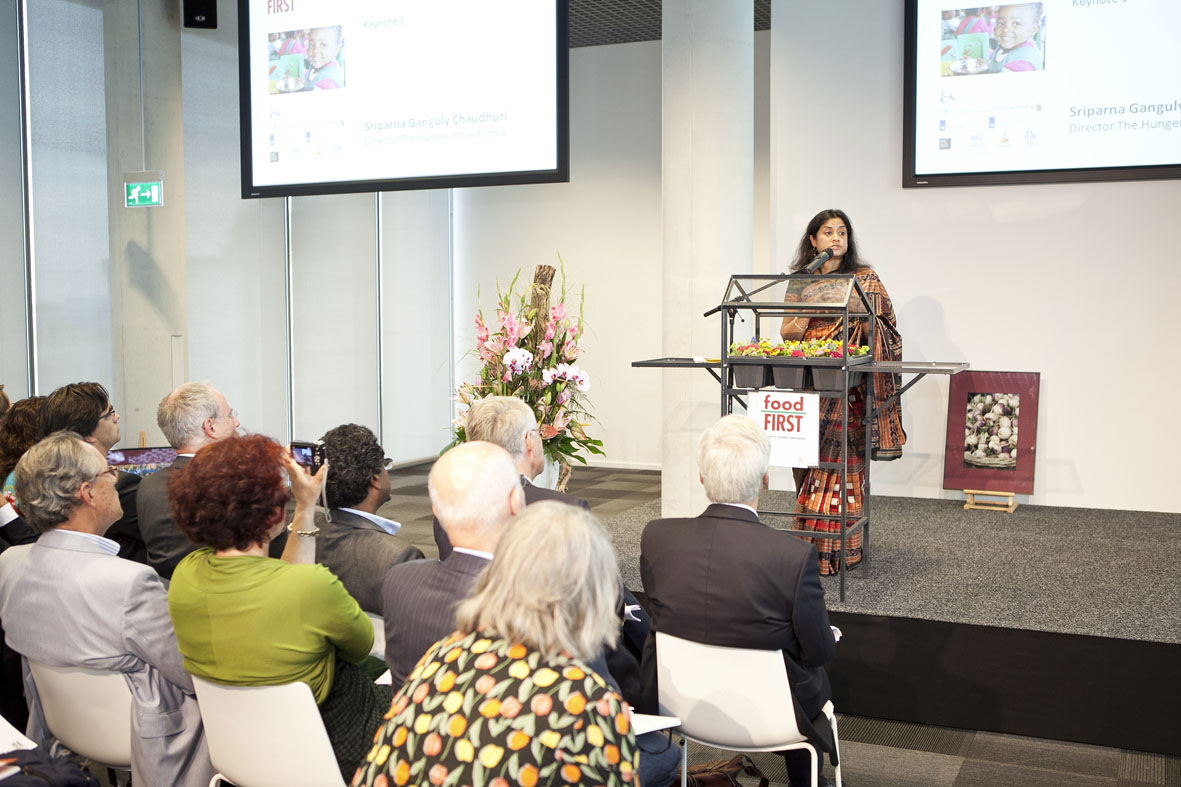 Hereafter, third keynote speaker Sriparna Ganguly Chaudhuri , Director of The Hunger Project India, stressed that the solution lies with the women, because gender inequality is intrinsically linked with a lack of qualitative food. Furthermore, Chaudhuri noted that despite vast quantity of buffer and reserve stocks of food grain in India, about 300 million people live below the poverty line, 42% of children under 5 suffer from malnutrition and starvation deaths in rural areas are still common. Chaudhuri said that only 48% of all food supply in India reaches the poor, 52% of food supply gets lost due to inclusion and exclusion, lack of infrastructure. This resulted from governmental incapability and a lack of political will. Additionally, urbanisation is a difficult factor. She mentioned how people would move to the city, expecting to find more income and food there, but ending up in the slums where they have no address, thus they are excluded from governmental food programmes. This supported her statement that "change can only come if we empower the village, they need to have a voice in the decisions at political tables and conferences."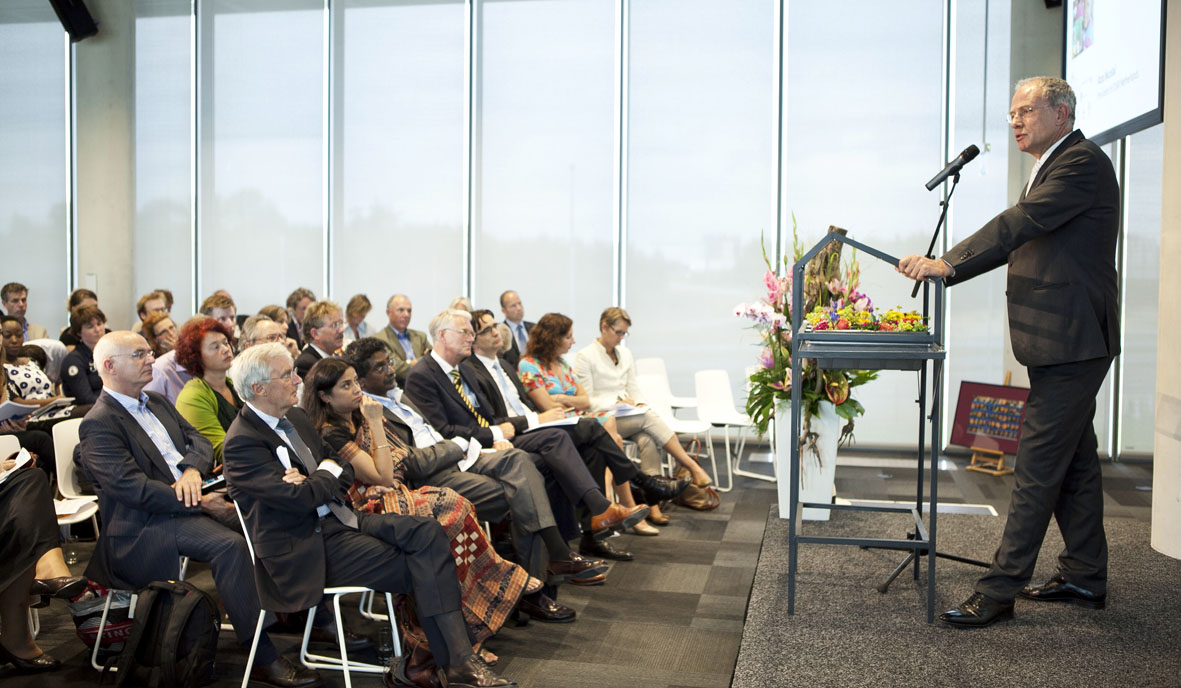 Fourth keynote speaker Atzo Nicolaï , President of DSM Netherlands emphasized a focus on partnerships and inclusion of the poor. He elaborated on DSM's work to combat malnutrition. "We innovate at ingredient level, at business model level, and they established innovation through the partnerships with WFP and UNICEF."
Discussion
During the discussion it proved again (which also proved in other conferences) that all parties seek a hybridization of expertise of businesses, NGOs, knowledge institutions, and governments, which stressed the importance of the FoodFirst cyclus.
Chaudhuri emphasized cultural influences and a holistic approach to combat exploitation. Naidoo stressed that all our solution are at supply side, but that a lot needs to be done at the other side, the governance side: "Food distribution leaks because someone is benefitting from it."
The conference ended with an analysis and points for further action by Wim Naudé, Acting Dean Director of the Maastricht School of Management. Naudé summarized that we have many educations knowledge gaps and therefore need a coalition of forces. The food industry has become big business, but with innovation and huge growth, also inequality grew because many people don't have access. There's a need for internal regulation and external regulations. He ended with focussing to train the small farmers as businessmen.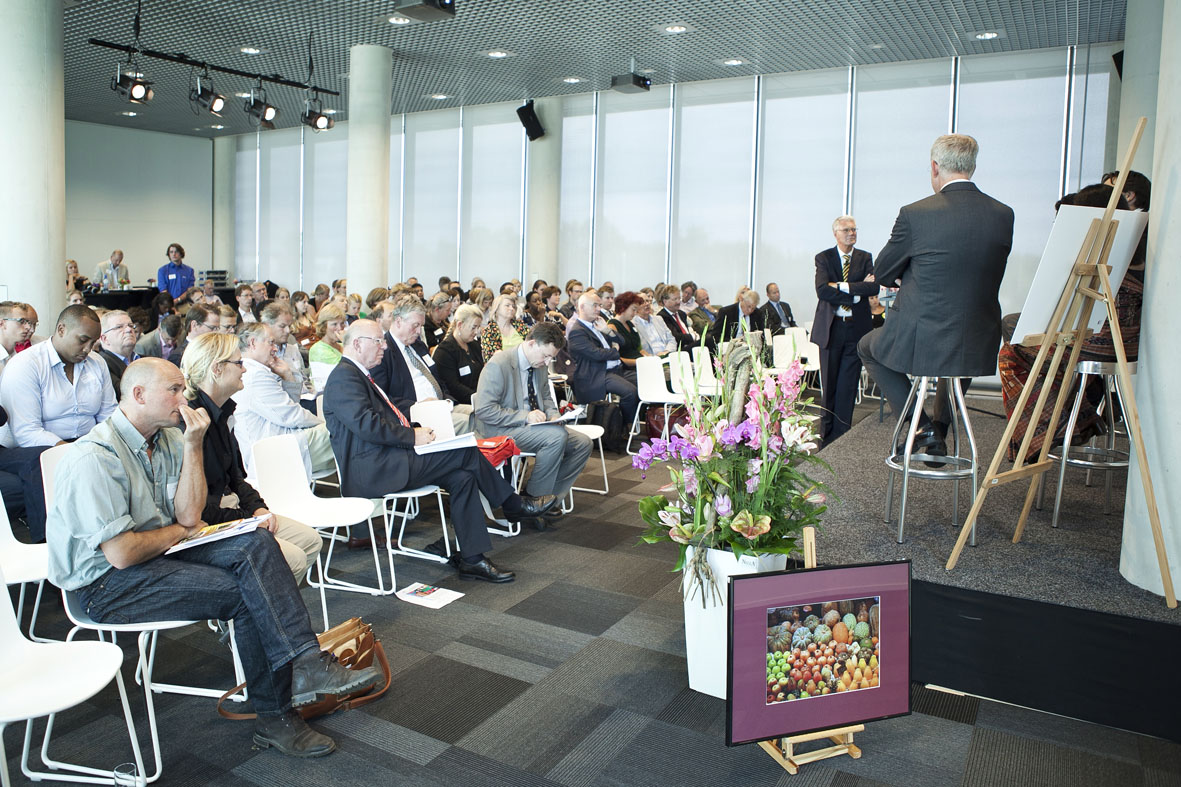 Herafter, Jos van Gennip, Chair of the FoodFirst Coalition gave a personal word of thanks to all partners involved.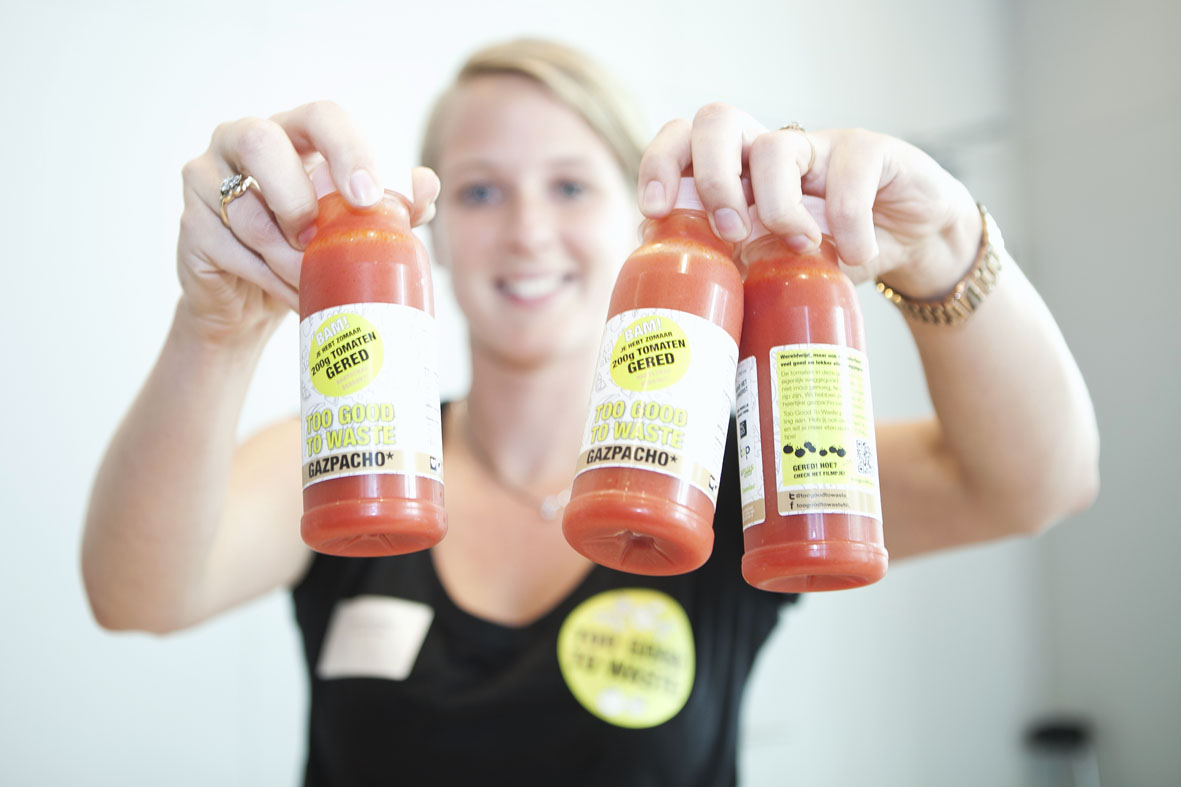 The day closed with a presentation of 'Too Good To Waste', an initiative by the winners of the Battle of the Cheetahs of the NCDO. This group of young food professionals raised awareness for the more than 30% of food that is thrown away in the production process, by making gazpacho out of it. To see more about their initiative, watch their film via this link .
Key outcomes of the day
To conclude, Investing in human capital through better nutrition is one of the most cost-effective ways of helping countries' economic growth . New partnerships should access the poor, and include women and children. Food dilemmas are increasingly difficult due to prize fluctuations, drought, climate change, and a high urbanisation rate. Education is key to help the poor make right decision regarding food. NGOs are needed for capacity building and understanding cultural gaps. Local governments should be addressed on their incapability in the food distribution process. These partnerships allow a strong joint strategy that reinforces each partner's expertise.