FoodFirst-Floriade conference: Urban Agriculture: the Green City
Tuesday, 2 October 2012
In the press: VersPers.nl: Voedselzekerheid door een groene stad
[> To the full report on FoodFirst for Thought.
Summary

Urban agriculture is hot. The production of food in and around cities is getting more and more attention, with activities ranging from community rooftop gardens, supermarkets for locally produced products and urban food strategies developed by major cities. Many initiatives, especially in Europe and North-America, are focused on education, reconnecting the urban dwellers with the bio-physical origins of food, and promoting citizen involvement. The potential of urban agriculture, especially for cities in developing countries, goes beyond these points. It may contribute to food security, poverty alleviation, improved food quality and greener and more livable cities, while saving energy, water, waste and space. The growing urban demand for food also brings new possibilities for smallholder farming in the 'hinterland'. However, many challenges have to be overcome for urban agriculture initiatives to reach their full potential. There is still a widespread lack of knowledge by city authorities, urban planners, businesses and development cooperation actors of the multiple benefits, constraints, preconditions and needed policies of urban agriculture.
Speakers
In this conference, experts and policy makers from Africa, Latin-America and Europe give their realistic perspective on how urban and peri-urban agriculture can contribute to food security, poverty alleviation and sustainable city development and how this can strengthen urban-rural linkages.
Lia van Wesenbeeck(r), Senior researcher of the Center for World Food Studies at the Vrije Universiteit van Amsterdam, moderated the conference. Doeke Faber(l) President of the FoodFirst steering group, introduced the topic urban agriculture. He said it is not a new creation but a resurrection; two decades ago, urban agriculture was common practice in the city, but throughout the years it relocated to the rural areas. Thus, although this phenomenon is not revolutionary, reintegrating urban agriculture requires turning consumers into producers and changing the landscape of cities.
First keynote speaker Diana Lee-Smith, the founder of the Mazingira Institute in Nairobe, Kenya, outlined current implementations, policy prospects and challenges to achieve food security amongst the poor urban population in Africa. "It is expected that over 500 million Africans will live in cities by 2020. The rich and middle income population do more urban agriculture than poor in relation to their numbers, making the poor much more food insecure, 77% in some places. Urban agriculture mainly brings food security to higher incomes who have land." Thus, the emphasis should be on providing land for the poor, because urban agriculture will otherwise benefit those who have land, the richer population. Urban agriculture benefits famers in two ways; it provides food security of the urban poor, and it intensifies the agricultural production within the city. African cities have much to offer. Lee-Smith emphasized the need to link science and farmers based on existing projects, to increase the farmers understanding of health risks and best practices.
Second keynote speaker Alberto Rodriguez, Director of CETEC Cali in Colombia elaborated on developing city market in an area with frequent armed conflict. CETEC creates alliances, organizing smallholders in rural Columbia, to achieve food security by connecting rural and urban areas and improving access to markets. Rodriguez illustrated CETECs integrated and diversifying approach; stimulating crop diversification, allocating funding for the investments, organizing the distribution, addressing technological adaptation and creating an increase of value in the production chain. The last phase of the products is commercialization, for which they have created alliances within the city between the producers, the processing companies, the consultancy companies, and the top private sector, including supermarkets and the financial sector. However, subsidies of the United States on their agricultural products interfere with the export possibilities for Columbia. Additionally, the production of biofuels competes with food production in the city.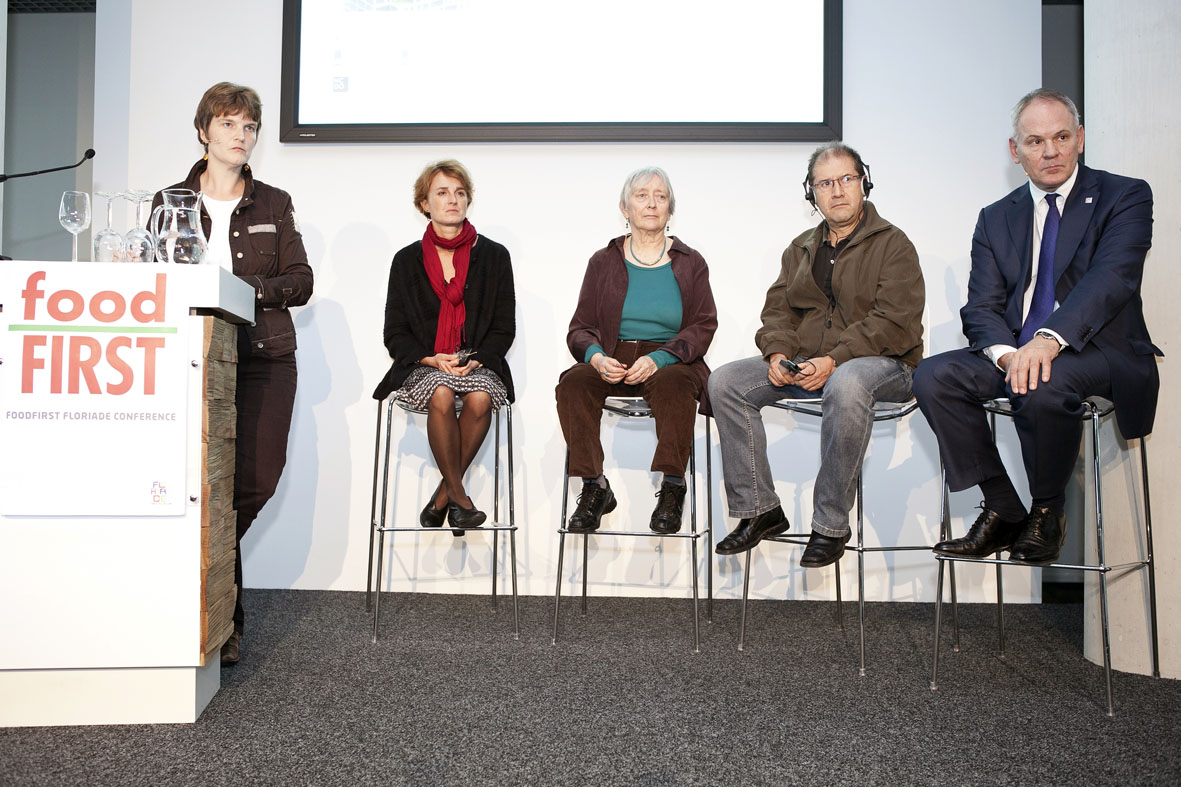 Adri Duivestijn, Deputy Major of Almere, gave an overview of the development of the city in the field of urban agriculture and green city development. Almere is only 30 years old and "a 100% manmade." An important aspect is also the city's focus on the middle class, giving them access to a green environment. However, the focus has been on quantity instead of quality; whole blocks of houses were built in similar style. Therefore an in 2006 initiated approach has new urban policy focused on diversity. For example the Homeruskwartier , a project where people can build their own house, or school, or farm.
The final keynote speaker, Anna Meroni, President of Nutrice Milano, presented her project Nutrice Milano, an initiative that uses public urban spaces for communal agricultural projects. The first pilot was 'the Earth Market', an experiment with food services – for example a weekly vegetable box service. Meroni elaborated on the challenge to find a sustainable approach and continuous supply, because soon the demand outgrown supply. Another urban agricultural activity was the vegetable garden on the campus of Milan's university. The use of public land connects people to the university and integrates a plot with the city culture.
A sustainable approach
The panel discussion debated effective and sustainable approach in urban agriculture, addressing questions from the audience like: "What can we learn from each other?", "how to deal with pollution?", and: "what are the roles for all stakeholders?" Lee-Smith said that for effective food distribution, networks are essential. Ownership is key; which should be transferred to the market to manage the service (Meroni). A remark from the audience (Africa Studiescentrum) added that food chains should be short, within the city or its periphery. The second part of the discussions debated stakeholder involvement and financial struggles. Urban and periphery-urban areas need to work together to complement their production and achieve higher volumes (Rodriguez) in an agricultural approached (Lee-Smith). The lack of sustainable funding undermines a permanent project (Meroni, Rodiguez, Lee-Smith). Sustainability should be the main strategy, not only because of ideology but also for a value-adding approach.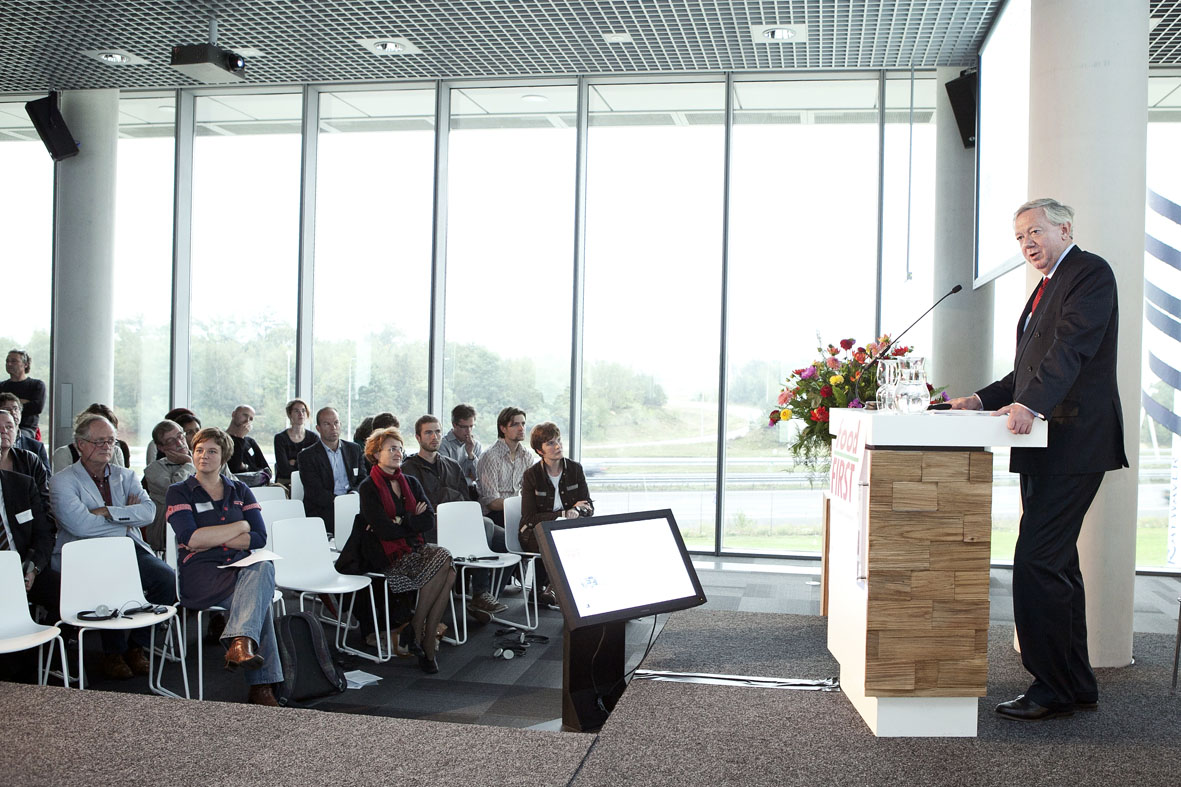 Hans Hoogeveen, Director General of the Ministry of Economic Affairs, Agriculture and Innovation, closed this final FoodFirst conference by summing the key lessons of food security: "there is much more to think about food and food security. Joining hands between politics, research institutes, civil society and the private sector, addressing and discussing issues is the way forward." Cities occupy only 2% of land surface, but 60% of people are living in the cities. He promoted scaling up the initiative: for every dollar spent in private sector investment to alleviate climate change, the government should add a dollar in public sector investment. These forms of partnership are needed.
Herafter Jos van Gennip, chair of the FoodFirst Coalition, made his final closing remarks ending the FoodFirst series: "The circle is closing." He emphasized the new perspectives that were addressed during the conferences, discussing climate change, deepening ideas and policies, the priority of a comprehensive approach in international cooperation, and cooperatives with the Netherlands, especially now a new cabinet is forming. He thanked the core of participants for forming a community - between civil society, research institutions, the government and the private sector - and he thanked everybody who helped to organize, facilitate, fund, develop and coordinate the conferences. He looked forward, the road to Milan's Expo in 2015 and Almere's Floriade in 2022.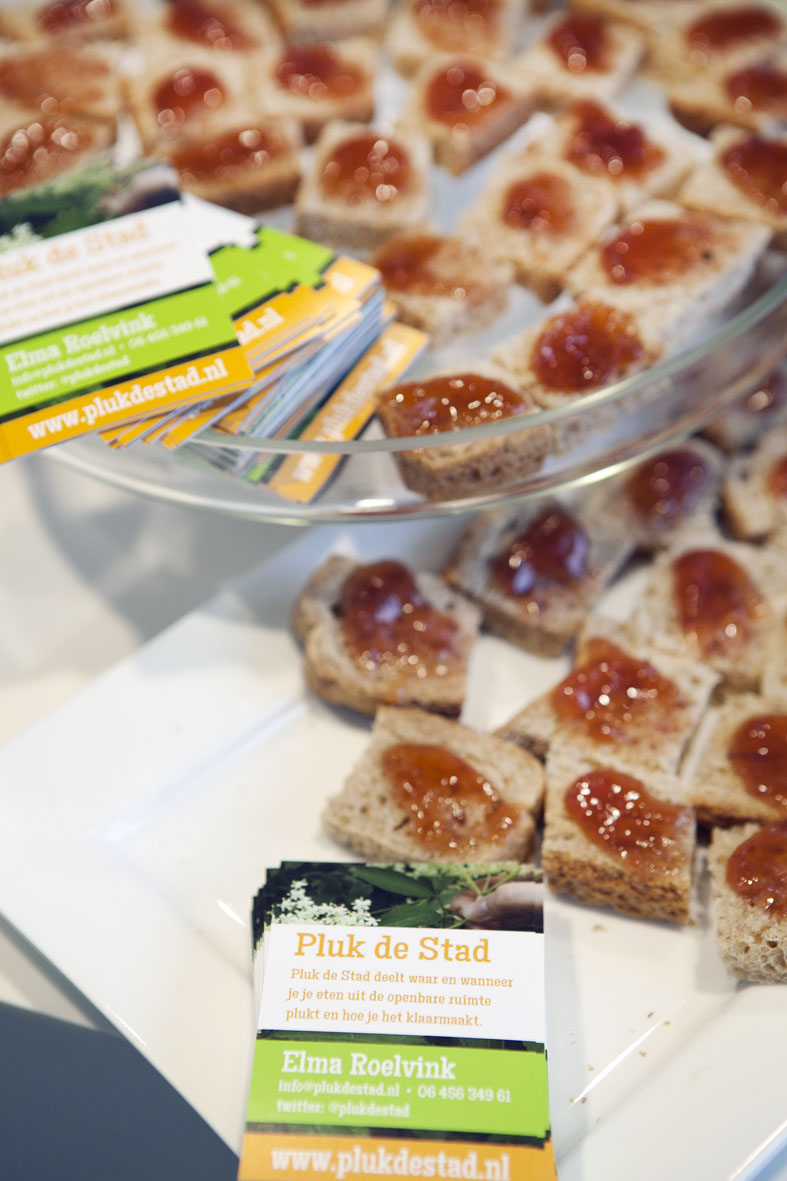 FoodGuerrilla initiatives
Lise Alix, Urban Gardening – From Tiles to Strawberries
Elma Roelvink, Pluk de Stad – Harvesting the City
During the day, two FoodGuerilla's share their creative idea for urban agriculture. Lisa Alix promoted her initiative 'Urban Gardening – From Tiles to Strawberries' – motivating citizens to transfer a neglected city terrain into a city garden. The initiative is a roadmap turning "boring patches of land and dog walking areas into strawberries and flowers." And Elma Roelvink presented her project 'Pluk de Stad' [Harvesting the City], a website where you can find and share trees, bushes, flowers and all other edible things in your city, when to pluck it and recipes to prepare it.