FoodFirst - Floriade Conference: Food and Sustainability
Can the world be fed in a sustainable way?
8 May 2012
This conference was co-organized with the WorldConnectors Round Table.
In the press: ViceVersa Online, "FoodFirst conferentie: hoe voeden we 9 miljard mensen?"
[> To the full report on FoodFirst for Thought.
Summary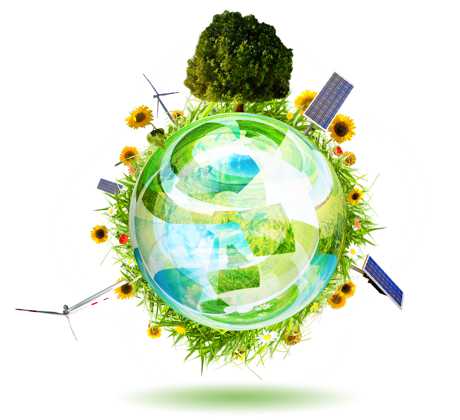 Image: alphaspirit © PhotoXpress.com
In order to feed the world's population, global agriculture will have to double its food production by 2050. However, holding on to current practices which could double the environmental harm of agriculture is not an option. The challenges that sustainable agriculture faces are:
to feed the world's growing population while protecting the planet (climate, biodiversity);
to produce more food, while having scarcer natural resources (land, water, fossil energy, mineral fertilizers) at our disposal;
to increase yields on a sustainable ecological (biophysical) basis, i.e. maintaining or improving soil fertility;
to raise productivity while involving the 800 million smallholder farming households in the world;
to optimize efficiency in the integrated food value chains on global markets while allowing mechanisms in agriculture to be more nationally/locally controlled and adapted;
to reconcile romantics (agro-ecology etc) and ostriches (technical, chemical and capital intensive agriculture): "Run by romantics, the world would starve; run by the ostriches, it would burn" (Collier 2010);
to intensify cooperation between agricultural producers, business, government, science and civil society.
In short, there seems to be no alternative but to recognize wicked problems and policy paradoxes; and to process them into new forms, ways, and configurations of a multifaceted global sustainable agricultural landscape.
The presentations and panel discussions shall focus on the following issues:
How can we feed the growing world population in a sustainable way?
Are fertilizers and intensive agriculture necessary to realize this aim, or are there ecological alternatives?
What is sustainable food production, and how can applicable standards be developed?
How can we stimulate market parties to produce food for 9 billion people as sustainably as possible?
Programme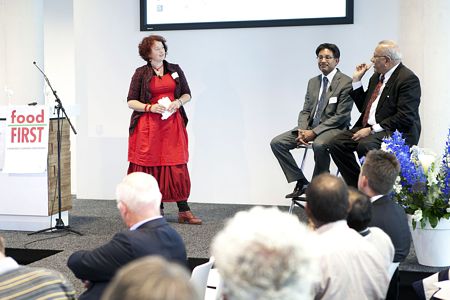 Moderator Evelijne Bruning (Director The Hunger Project)
Welcome: Hans Eenhoorn (Worldconnector and Former Senior Vice President of Unilever)
"The Worldconnectors have proposed directives for Dutch policy that tackle these issues. Invest € 1 billion ODA, during 10 years, in agriculture for global food security and climate smart, fair and sustainable growth, aiming to, a.o., achieve a new and sustainable Green Revolution; iInvolve the Dutch private sector throughout the agro-food supply chain; and contribute to international political stability."
Key note speech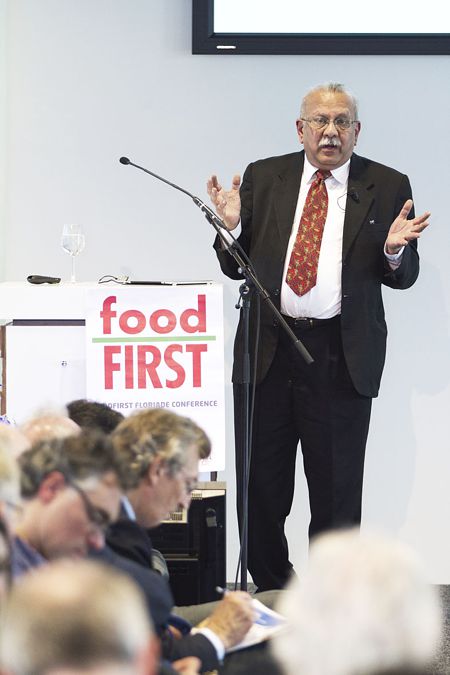 Nitin Desai (Trustee WWF International, Member of the Indian Prime Minister's Council on Climate Change, Secretary-General of the World Summit on Sustainable Development in Johannesburg, 2002)
"Due to our system of agriculture, we have reached the borders of our planet in many ways. To turn us around, we should, among other things, focus on food security as primary goal, an important part of which is education of farmers; then, we have to opt for an ecology approach, which means designing policies for the whole farming system and not for individual products; and we should foster the local farmers, which means that we treat them as entrepreneurs and give them the tools to be entrepreneurs."
Key note speech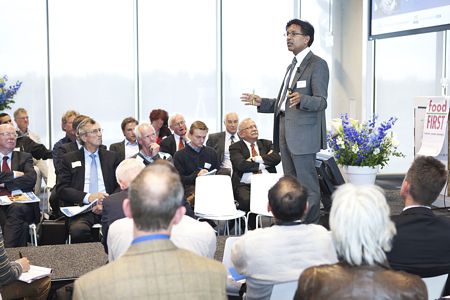 Prem Bindraban (Director ISRIC World Soil Information, Wageningen UR)
[>download slides
"Vegetarianism is not a solution; do enjoy your steak! Ruminants such as cows and sheep eat rangeland grass – which we do not eat -- and make valuable protein out of it. Pigs and chicken eat grains and other crops which could be eaten by humans – that should be more of a concern.
"A solution for the food problem is a policy that uses technology combined with an institutional infrastructure. Europe has done so, with the Plan Mansholt, combining technological development with knowledge centres such as Wageningen UR. Asia has followed that path recently. Africa yet has to jump on this wagon."
Presentation of The True Price initiative: Michel Scholte (Young Worldconnector)
[>download slides
Panel discussion with: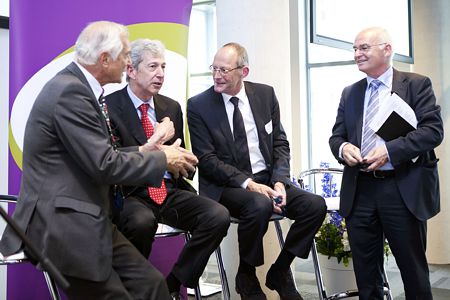 Hans Eenhoorn (Worldconnector and Former Senior Vice President of Unilever) [>download slides
Paul Engel (Director of ECDPM and Professor Public Policy and Innovation, Maastricht School of Management)
Paul Jansen (Director Corporate Public Affairs Agri at VION NV)
Wouter Verhey (Policy Coordinator Food Security, Ministry of Economic Affairs, Agriculture and Innovation)