---
About FoodFIRST

Our history
In 2011, foodFIRST was founded based on the belief that cooperation between the government, businesses, civil society and knowledge institutions is needed to accelerate progress on food and nutrition security and agricultural development. Such dialogues are key to keep food security high on the agenda of the various stakeholders. Moreover, the four sectors complement each other's interventions and expertise and by doing so, extend their outreach to African organisations and 'agripreneurs'.

Our goal
FoodFIRST aims to encourage its partners to engage in an open proactive dialogue that promotes out-of-the-box thinking to unconventional solutions. By connecting expertise, foodFIRST stimulates partners to forge impactful coalitions and to seize opportunities towards achieving SDG1: eradicating poverty in all its forms and SDG 2: end hunger, achieve food security and promote sustainable agriculture. For the coming years, foodFIRST will focus, in particular, on fostering 'agripreneurship' and the professionalization of African smallholder farmers and agri small to mid-size enterprises. Other areas of attention include youth employment, rural-urban linkages, value chain development, smallholder finance, migration, gender, food waste reduction, geopolitics etc.

As the world's second-largest exporter of agricultural products and leader in the field of agricultural innovation, the Netherlands is uniquely positioned to support the transition towards more equitable and sustainable food systems.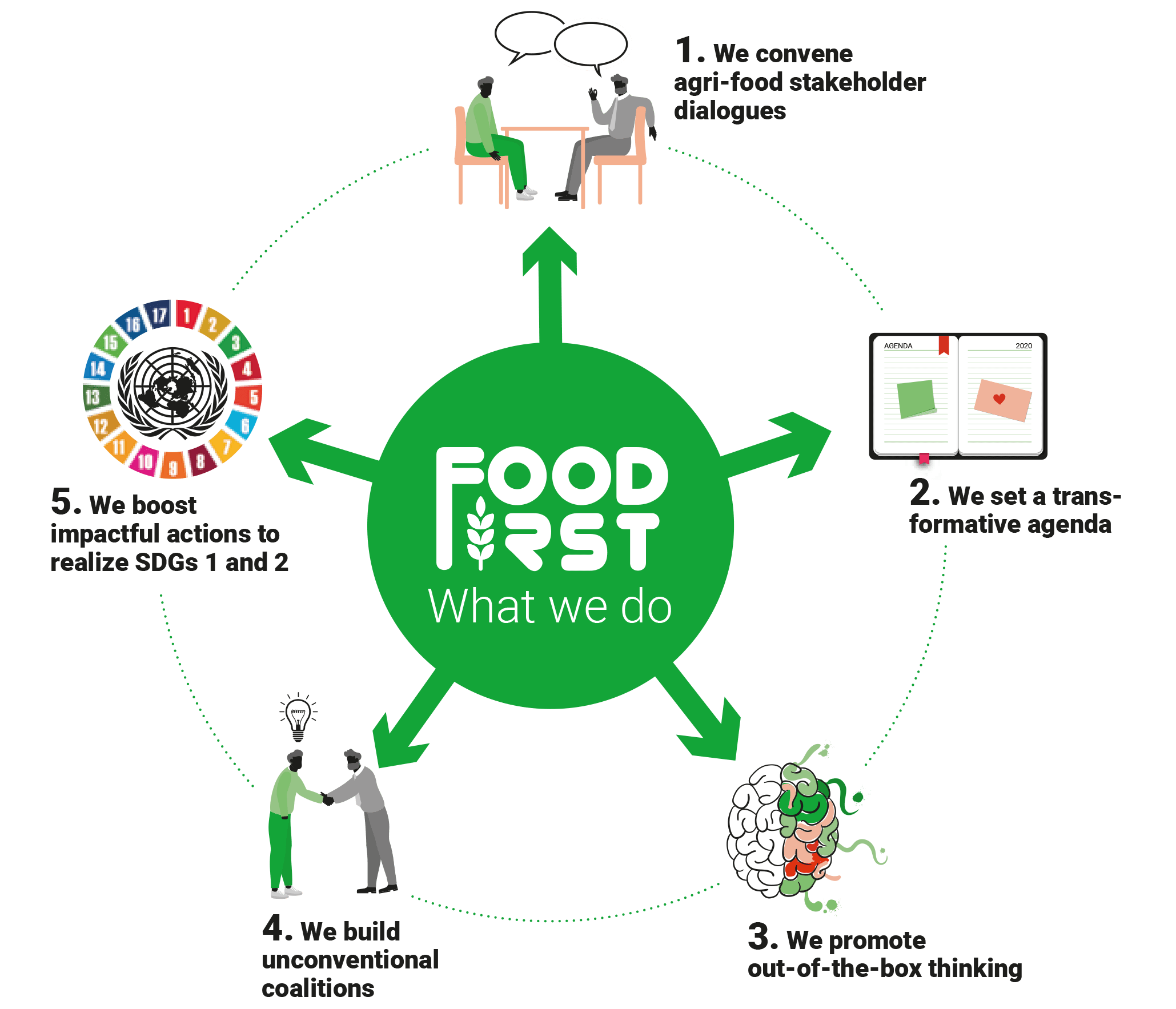 ---
Our approach
FoodFIRST's coalition consists of the Dutch Diamond actors (government, businesses, research institutions and civil society organizations). Over the years, foodFIRST has gained the reputation as an effective convenor of a wide range of actors who feel committed, out of their mission and expertise, to work collectively towards the goal of eradicating world poverty, hunger and malnutrition. In doing so, foodFIRST has mainly focused on empowering smallholder farmers in Africa and has provided a platform where new policy approaches emerged which can be deployed by Dutch policy and development actors. FoodFIRST's coalition reflects the Dutch Diamond actors.

Based on the Dutch ambition to be at the forefront, foodFIRST has always offered concerned stakeholders a neutral platform that:

1) inspires an open exchange of views and out-of-the-box thinking in order to find innovative solutions to challenges in the food chain;
2) triggers an action-oriented agenda that builds on the strength and expertise of the Dutch stakeholders involved;
3) stimulates cooperation between parties so as to explore (unconventional) solutions and to learn from each other.