Refresh the food system - Inspiration to make transformation happen
Programme Report
On Friday 15 October, in celebration of this year's World Food Day, foodFIRST collaborated with the Netherlands Food Partnership to organize a hybrid event that managed to draw over one hundred food professionals to Pakhuis de Zwijger in Amsterdam, as well as many more online from across the globe – from Latin America to Sub-Saharan Africa to Southeast Asia. Additionally, the programme, which was developed in close collaboration with Dr. Monk, inspired participants to propose concrete actions that would contribute to genuine transformational change, as well as to debate pressing issues that require immediate action.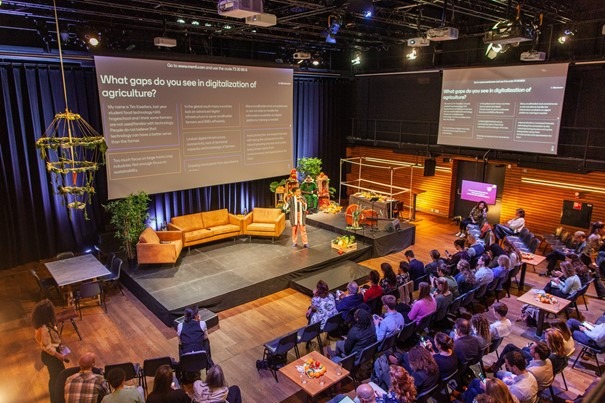 Lawrence Haddad, Executive Director of the Global Alliance for Improved Nutrition (GAIN), shared his thoughts on the Food Systems Summit that took place three weeks prior and how its outcomes should be translated into action to address food system challenges. Lawrence identified three critical next steps, the first of which is to support the United Nations member states' national pathways to food system transformation. Second, there is a critical business role in operationalizing the true value of food. Thirdly, it is critical to bring together researchers from all over the world, as science takes on different forms depending on your location. At World Food Day, three specific food challenges were discussed: enabling healthy and sustainable food choices, digitalisation, and living income. Every topic – as part of the dilemma that millions people face – was introduced by Kwame Kondor, spoken word artist from Ghana. FoodFIRST provided the majority of content related to topic digitalization, which will be discussed below.


Digitalisation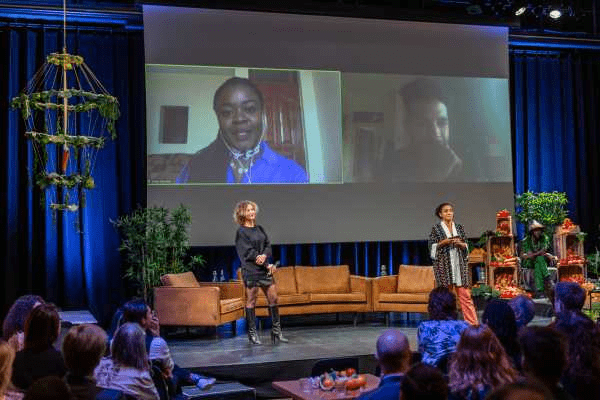 Three individuals with diverse expertise in the field of digitalization offer their distinct perspectives. For example, Vivian Opondoh, the engineer and entrepreneur behind Farmula – a start-up she founded in 2019 with the goal of "aggregating data in the agricultural supply chain to improve yield and price information" – is working to build visibility for and trust in her service among farmers and buyers across Africa. She described the proliferation of apps and information competing for farmers' attention in the global South, saying, "If we could eat apps, we would never go hungry." There is no visibility for the numerous available solutions. Even the most exemplary services are highly likely to fail to achieve their intended purpose or to be abandoned entirely when implementers disregard the target users' literacy, skills, culture, and demands. As a result, governments should take the initiative in establishing the necessary infrastructure for digitalisation. If you create an environment conducive to the growth of technological solutions, people will flock. Donors and INGOs should fund and support players already operating in the technology and digital space, and if the space is not conducive to business growth, they should assist businesses in creating that space. Along with this requirement for a sound infrastructure, by far the most important factor to consider is the establishment of trust - it is critical to educate future farmers and to foster a link between the creators of technological solutions and their users.

On stage was also Marieke de Ruyter de Wildt, founder of The New Fork, an Amsterdam-based organization that uses blockchain technology to promote transparency in the global food system. She concurs that the digital space is currently "messy." More optimistically, she asserts, such "digital chaos" can be defined as the period preceding significant progress, during which adoption of any new technology transitions between the "decentralized" and "distributed" phases of its rollout. Lastly, Abdallah Ekow Manuar Smith joined the conversation. He is an agripreneur at Gaia Greenfields Ltd and has extensive experience working with Ghanaian farmers. He cautions that well-intentioned initiatives can easily become stymied by developers' failure to account for ground realities. Agriculture's disconnect from the digital space must be addressed. Internet access may be unavailable from the farm, either due to patchy coverage or a lack of financial resources to pay for data.

The panel agrees that, despite the difficulties, there are numerous reasons for optimism. There is a ascended generation of agripreneurs who are proactive, digitally literate, and extremely engaged in the possibilities of sustainable agricultural technologies such as hydroponics. "When it comes to [bridging] the disconnect," says Vivian, "we can start training the generation that's coming, the future farmers so that when they come into the space, they are bringing their own solutions."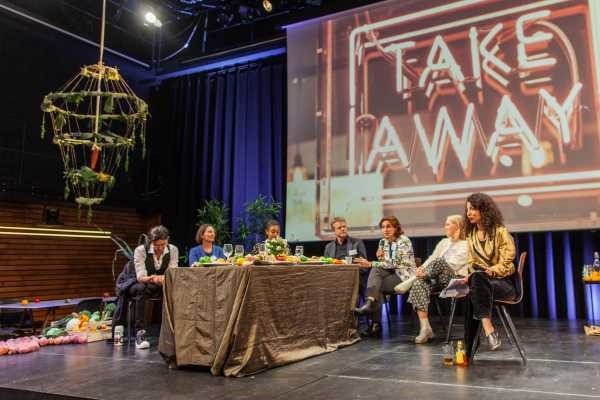 In the afternoon, participants went into an interactive breakout to consider various initiatives to provide a solution to digital chaos. For example, partnering with a telecoms provider to provide free data to farmers, and using influencers to seed appropriate, targeted information. The discussions subsequently switched towards the concept of an "ethical super platform", to help farmers in the global South in sorting out the digital wheat from the chaff. In essence, the tabled solution is a plug-in chatbot designed to refer users to the exact source of information they need. This chatbot should be a self-learning AI that connects local technology talent with a cultural and linguistic understanding. By establishing trust and eliciting the feedback necessary for effective algorithm optimization, this chatbot can establish itself as a go-to resource. The concept was enthusiastically received by panelists gathered around the World Food Day Table of Plenty. Guido Landheer, Director of European, International, and Agro-Economic Policy at the Ministry of Agriculture, Nature, and Food Quality, expressed enthusiasm for the concept, noting the possibility of convening meetings in embassies with the goal of establishing proof of concept at the local level. For instance, a competition for local students to develop a business plan and take the concept to the next level.


Lunch table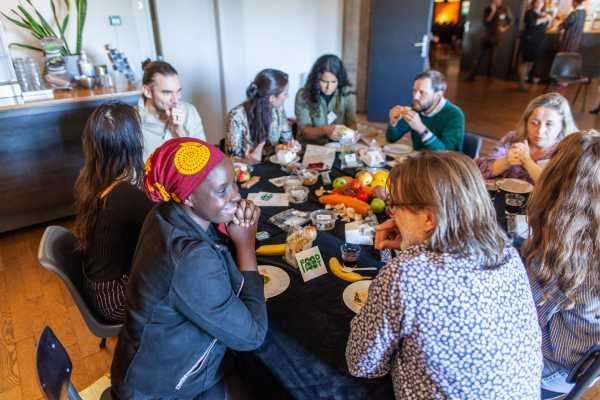 In addition, foodFIRST also hosted a lunch table as we prepared 'food for thought': topics or themes to discuss with their lunch companions that fit their objectives and those of World Food Day.

Topic for foodFIRST's table was 'the personal is global'. We compared and contrasted the sociocultural influences on food habits in the Global North and South. We hoped that by using conversation starter cards, we could help participants connect not only with one another, but also with the global food system. The questions ranged from the personal, 'what do you do to combat food waste,' to more systemic concerns about the global food system, 'how to make food systems more inclusive and improve access for marginalized groups.' We also discussed digitalization issues, such as the potential for blockchain technology in the agri-food sector to enable the traceability of information throughout the food supply chain, thereby enhancing food safety and fair pricing, as well as providing information on the carbon footprint of products. Additionally, we discussed the constraints to achieving SDG 2's zero hunger goal by 2030 as a result of a combination of economic and political structural inadequacies that must be addressed. 'Corruption' was highlighted as a critical point that was missed during the morning program, as well as the role it plays in perpetuating the economic divide between the Global North and South.

Also, for lunch, participants were served two types of brown bagged lunches. 'Abundant XL' and 'Meagre Meal'. Participants were asked to look around and read the messages. Was your lunch buddy enjoying as much food as you? What can you give? Those with smaller portions were asked whether they deserved more. The inequality of food systems was highlighted, which is felt by many daily.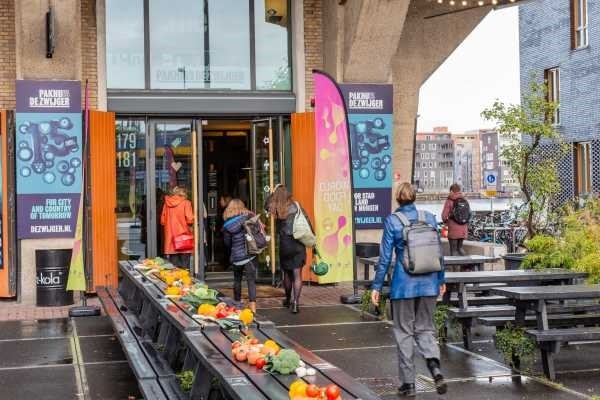 Other speakers of the day include Charles Michel, Food Educator and Activist and featured on Netflix's The Final Table, Michel Scholte (Impact Institute / True Price / Minister for New Economy), Marie-Ange Vaessen (Eosta) and other experts.

For the full report, you can read the e-magazine on NFP's website here.