[vc_row][vc_column][vc_column_text]
The Business of Nutrition Security
[/vc_column_text][/vc_column][/vc_row][vc_row][vc_column width="2/3″][vc_column_text]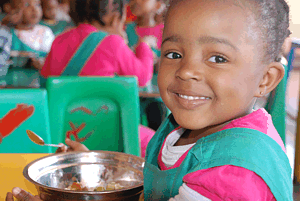 Image © GAIN
"We have the science, expertise and business models to eradicate malnutrition that kills millions of children each year and stunts the growth of millions others. We need political will and smart partnerships to achieve this goal in our lifetime." Jay Naidoo, Chair GAIN Board)
Malnutrition undermines economic growth. Today, one billion go to bed hungry every day and another billion people suffer from so called 'hidden hunger'. They lack essential vitamins and minerals in their diet such as iron and vitamin A. Good nutrition is crucial for normal physical and mental development of children and defines their opportunities in later life. Investing in human capital through better nutrition is one of the most cost-effective ways of helping countries' economic growth (Copenhagen Consensus, 2012). Companies and scientists in the field of micronutrients are developing auspicious innovations such as food fortification. The Netherlands in particular, world-leader in the food sector, has the expertise to tackle malnutrition successfully, through joint initiatives with local partners in developing countries.
At this fifth FoodFirst conference (inter)national key players in the field of food and nutrition security share their expertise, experiences and views on the missing link between available expertise and innovations. What can businesses, policy makers, civil society organizations, and scientists deliver to reinforce food and nutrient security for the billions of people who lack access to it?
The fifth FoodFirst conference at the Floriade venue in Venlo focussed on the effects of malnutrition, or so called 'hidden hunger'. 925 million people go hungry every day. Two billion people lack the essential nutrients to live a long and healthy life. And, the problem is still growing. The world's population rises fast, and the demand for food rises even faster.
[/vc_column_text][/vc_column][vc_column width="1/3″][vc_column_text]
[/vc_column_text][/vc_column][/vc_row]